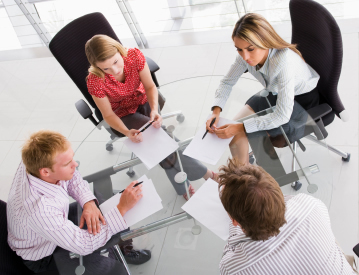 Collaborative Divorce has become the newest and most humane means to divorce while retaining a matrimonial attorney.
The process goes as follows: Both parties retain a lawyer trained in the Collaborative process to represent them. A team is then put together which includes a financial expert, and a divorce coach.
This team entails all the necessary experts. In some case a child specialist is brought into the process when there are custody disputes or the children are being exposed to unnecessary marital problems and the children need to be protected.
The COLLABORATIVE process means NO COURT,  and both attorneys sign an agreement that they will work in a collaborative method and by a model ensuring the clients that if tghey chose to go to court at a later time, the lawyer must dismiss themselves from the case.  Thereby giving the attorneys an incentive to make collaborative work.
The Divorce coach is in place to manage and set the agenda and be available for the therapeutic component, keeping the climate and emotional levels to a collaborative and empathetic level. In some cases many clients who have not fully grieved the loss of the marriage may be still processing their emotions and can be reactive more so than neutral, having a licensed counselor and coach can move the process along more smoothly.
The financial expert or better known as the Certified Divorce Financial Analyst (CDFA). Client benefit from having a Financial expert, especially because the dissolve of the marriage includes much of the marital assets being divided, pensions, 401K , property all need to be formulated to a fair settlement. All monies that have incurred since the wedding day are marital including liabilities that also need to be settled.
The attorneys are the client's advocates, they know the law and they are working with each other to uphold the law.
If a couple choose not to litigate, or mediate then this is the next best options. It's affordable, it's humane and it has all the necessary supports many couples require and appreciate.
Please Contact Us for a FREE Consultation to find out what process is best for you and your family.
Dana and Don, are co-founders of The Mediation and Family Counseling Group.   We can be reached at www.mediationandcounseling.com, info@mediationandcounseling.com or 1-888-281-2725.